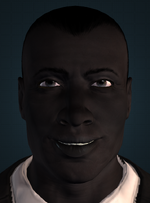 Heavenly Talent, formerly Joshua Benedict Talent, is the talent agency which features prominently in many Jamieverse stories.
Early Years
Edit
Heavenly Talent's founder, Joshua Benedict, was born in Nigeria in 1961 and moved to England in 1982 to find work in communications. After six months, Joshua found work with a talent agency, which he would later leave to found is own agency.
It is unknown exactly when Joshua founded his agency- all that is known is that it was before 2007.
Expansion and Rise in Prominence
Edit
Prior to 2011, Joshua's agency had a reputation as good, albeit not spectacular. Many larger agencies, such as Spencer and Hall, looked to Joshua's agency to supply them with up-and-coming talent. When one of Joshua's clients, a nineteen year old woman named Charlotte Hutchinson, signed for Spencer and Hall, Joshua saw it as a professional victory, as he believed it would result in increased interest in his own agency.
to be continued
Key Figures
Edit
Notable Clients
Edit