You may be looking for the story named Soixante-Trois Airlines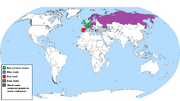 Soixante-Trois Airlines is the name of a Paris-based airline within the Jamieverse which is a division of Soixante-Trois Industries. Its employees make up the majority of the characters of its eponymous story.
Early History
Edit
The airline's parent company, Soixante-Trois Industries, was founded in 1963 (and named for that year) in Paris by the French entrepreneur Henri Masson, after he discovered that he was to become a father. Originally just a distribution firm for electronic goods such as record players and telephones, Soixante-Trois eventually grew to become a manufacturer of electronic goods, and acquired several smaller businesses. By the time Henri Masson retired in 1994, Soixante-Trois Industries had expanded into three neighbouring countries, and Masson himself had a personal fortune of over ten billion French francs (roughly 1.5 billion euros in 2016 money). Henri was succeeded as CEO and chairman of Soixante-Trois Industries by his son, Antoine Masson. Antoine continued to expand the business, and in 2002 announced the formation of Soixante-Trois Airlines, which would provide high-quality air travel between Paris and other major European cities.
Expansion, a New Rule for Flight Crews
Edit
Over the course of the next ten years, the airline expanded in both size and scope of operations, even offering flights to Middle-Eastern destinations, but in November 2012, a scandal broke out when two young men- who were both seeking to transition to becoming women- applied to join the all-female flight attendant crew.
to be continued
Destinations Served
Edit
Blue Route (Western & Central Europe)

Paris (hub)
Berlin (hub)
London (hub)
Glasgow
Dublin
Nice
Strasbourg
Bordeaux
Toulouse
Montpellier
Ajaccio
Amsterdam
Brussels
Munich
Frankfurt
Zurich
Geneva
Vienna
Red Route (Southern Europe)

Paris (hub)
Berlin (hub)
London (hub)
Madrid
Barcelona
Malaga
Seville
Lisbon
Rome
Milan
Naples
Athens
Black Route (Eastern & Northern Europe)

Paris (hub)
Berlin (hub)
Moscow
St Petersburg
Warsaw
Helsinki
Stockholm
Oslo
Prague
Grey Route (Middle East)

Paris (hub)
Istanbul
Dubai
Doha
Employees
Edit
(Those marked with a '+' are transgendered.)
Former Employees
Edit
The name of the airline is a play on Rule 63 of the internet, which states that for every given male character, there is a female version of that character.